Products > GROM-USB2-i MP3 kit (USB/AUX/IPOD)
GROM-USB2-i MP3 kit is an integration between USB stick, iPod/iPhone and AUX and OEM car stereo.

It provides direct audio interface to a car stereo via the CD changer or extension port. You can play the MP3 / WMA / iTunes (AAC) files stored on the USB stick/hard drive/mass storage device through the car stereo, and control the media tracks via stereo buttons. Additional features are:
- iPod/iPhone integration - play, charge and control your iPod/iPhone;
- Bluetooth capable via GROM Bluetooth Dongle;
- AUX-IN port for any audio source.

Operation with USB is simple:
- Transfer your MP3 / WMA / iTunes (AAC) files to USB stick / disk / mass storage device
- Connect GROM-USB2-i car kit to your car stereo via CD changer or extension port
- Plug-in USB stick /disk into GROM
- Play MP3 / WMA / iTunes (AAC) files through the car audio system instantly
- Browse your music files using car stereo buttons
- Navigate through directories and map them to the disc buttons on your car stereo / steering wheel
- Get the CD quality sound directly to your car stereo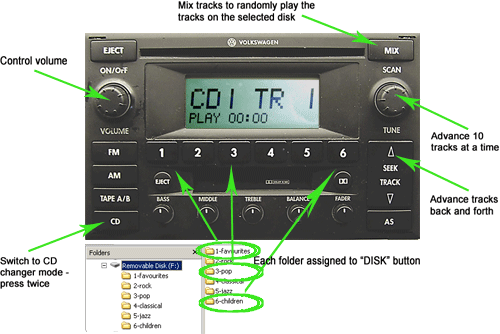 Note: the picture above is for the reference only, the different stereo may have different operational buttons. Please check your manual or contact tech support via support page
Additional features:
- iPod/iPhone direct interface: play, charge and control your iPod/iPhone with the car stereo or steering wheel controls
- Bluetooth handsfree and wireless playback via GROM Bluetooth Dongle
- 3.5MM AUX-IN port for any additional audio source
Main characteristics:
- Build-in high quality MP3/WMA decoder
- Supports USB disk/flash drive/mass storage devices
- FAT 16/32 file system supported
- Direct connection with CD quality sound
- No battery required
- Full control by steering wheel or car stereo panel
- Playlist function same as multi CD
- Firmware Upgradeable universal interface fits many car makes.
- iPod/iPhone direct interface
- Bluetooth capability
- 3.5MM AUX-IN input
Specs:
- GROM box dimensions 3.5 x 2.5 x 1.5 (W x D x H)
- 6 FT USB male to female extension cable
- Operating temperature: -40C - +85C (-50F - +200F)
- Operational current: ~150mA
- Standby current: ~7mA
- SN Ratio: 70dB
- DAC resolution: 18bit
- Total harmonic distortion: 0.1%
Standard Package:
- GROM-USB2-i adapter box in metal enclosure
- Vehicle specific data cable
- USB Type A Male / Type A Female 6FT cable
- Usage manual
Additions:
- GROM IPOD cable (IPD2) if you want to get the iPod/iPhone integration
- 3.5MM Male to male regular or recessed cable for any additional audio source
- USB Type A Male / Type A Female 6FT cable
- Usage manual
Compatibility:
Can be used with any USB disk / flash drive / mass storage device / external hard drive

Please check our compatibility guide for your specific vehicle. (Adobe PDF file)

iPod Compatibility:- 4th Gen iPod and newer / Nano 1st, 2nd, 3rd, 5th Gen and Nano-chromatic / iPod Video / iPod Photo / iPod Classic 1st and 2nd Gen / iPod Touch 1st, 2nd, 3rd Gen / iPhone / iPhone 3G / iPhone 3GS / iPhone 4G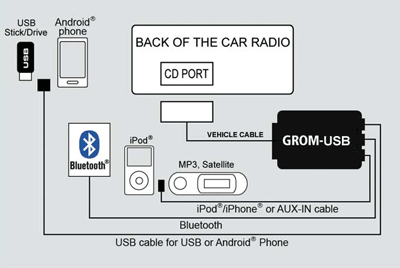 Documents:
Usage Manual .PDF
Download latest firmware update
Compatibility Guide .PDF
Video Guide: Operation and Usage
Where to BUY: