With GROM's latest addition of apps for Smartphones, DashLinQ, your driving life may never be the same.
As you may know many car manufacturers developed dashboard interactive head units (car stereos) that allow drivers to integrate important features of Smartphones seamlessly into the driving experience. That includes the access to modern GPS and maps, phone calls, text messaging and music streaming. The examples of such technology include Google Android Auto and Apple Car Play. That exciting technology is available to few of us that drive brand new cars with the expensive technology package. But what about the rest? What options are available?
The good news is GROM has developed an app that turns your phone into an infotainment system. DashLinQ is the car mode app that allows you to minimize the distraction while using your phone's important features during driving.  Secured on the car dashboard, and connected to your stereo via Bluetooth or USB, your phone can be a great alternative to the expensive latest car technology.
Providing a specific layout design, DashLinQ offers drivers easy access to phone calling, GPS navigation, music, and more. Large fonts and vivid colors, as well as intuitive user interface, are the foundation of DashLinQ design.  Two critical functions – navigation and phone dialing, are activated with Voice Control Activation.
But what makes DashLinQ so exciting is that it is also offering Voice Command Activation (VCA).
Voice command isn't new. There have been a variety of different concepts thrown into the market over the last couple of years.
What makes VCA technology in DashLinQ so amazing is that the App minimizes drivers to touch and look at their phone to get what they need out of it. A driver can keep their hands on the wheel, along with their eyes on the road. They can tell their phone they want to make a call, and it is done. They can also use voice commands to check road condition, find out how to get to their destination, play music, or read a text message.
It's almost like they have their personal assistant sitting shotgun next to them and performing all these tasks while they drive.
In many ways this is the ideal situation for Smartphone owners who commute every day, especially with awareness around the country to the dangers of distracted driving. With the road becoming more clogged and too many reckless drivers cruising the freeways, it is extremely important to not let your eyes off the road, or your hands off the wheel. Voice activation is a key method for offering phone access while driving. It's safe and convenient.
With DashLinQ you can:
Activate and use GPS navigation
Make phone calls
Quick Dial of phone numbers
Read then respond to text messages (SMS) (responding coming soon)
Open other smart phone apps
Play music via integrated plugins for Google Music, TuneIn, Spotify and local files
DashLinQ knows when your phone is connected to the stereo via Bluetooth or USB. It will open automatically upon car stereo connection, and you can use your phone in the car mode right away.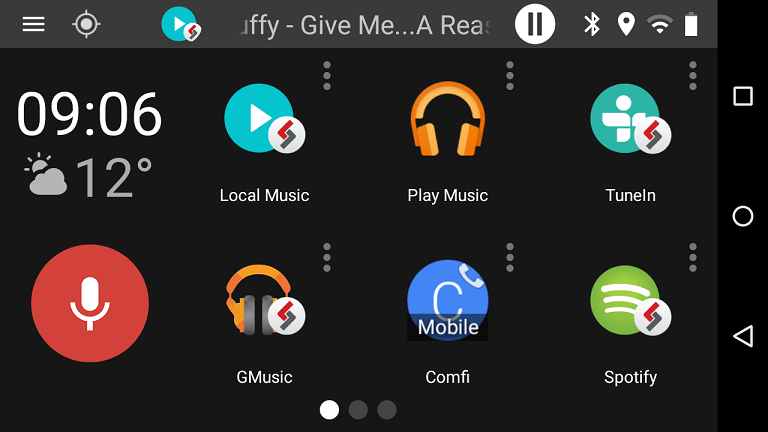 Microphone button activates Voice Activation Control for Navigation and phone calls. Incoming messages are read aloud with the option to dismiss.
In addition, DashLinQ is designed to get you to your music quickly. While in driving mode your phone music and many music apps are available quickly and safely: Spotify, TuneIn, or Google Music are all available through DashLinQ. Spotify, TuneIn and Google Music are fully integrated with the DashLinQ, and provide seamless car mode experience. Large fonts, cover arts, favorites – all designed with the driver in mind. You can even record your favorite tune while in TuneIn to access it later. Note that Spotify integration requires paid Spotify subscription. No paid subscription is needed for TuneIn Web Radio and Google Music.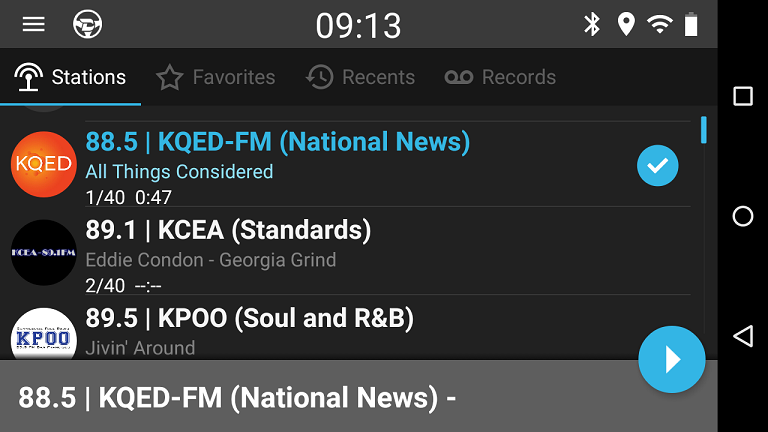 No matter what screen your are on within your phone, you can quickly return back to the DashLinQ with just one tap on the DashLinQ transparent overlay.
Time and weather are always on the display, with the weather featuring correct or selected location.
If DashLinQ is used with GROM hardware device (such as USB, Android or Bluetooth car kit), the music and phone calls become fully integrated with the car stereo and steering wheel controls.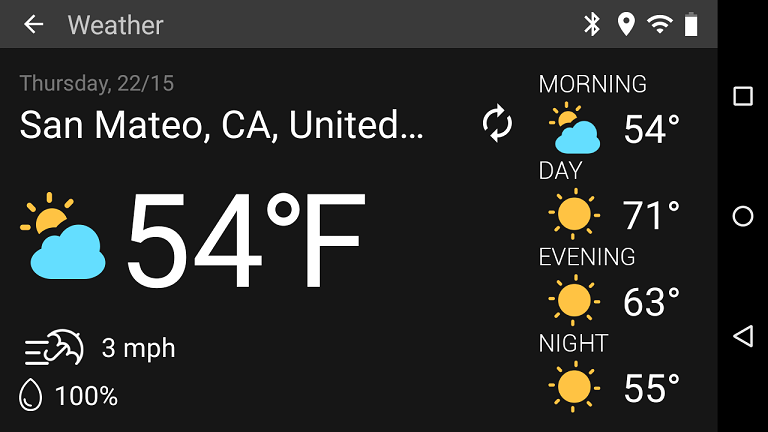 Consider your life now. Think about how you interact with your phone to get what you need during your driving experience. Think about how you may not be able to get use your GPS system because your too busy driving through freeway traffic, or not taking an important phone call because you're driving downtown during the 6pm rush hour. With DashLinQ it all will change.
We at GROM are excited to release DashLinQ and look forward for your support in providing feedback about our new product. Look for it on GROM's website and download the app at Google Play Store.
For more information, please visit DashLinQ page and watch  DashLinQ demo video on GROM YouTube channel.  We are open to your suggestions and comments, please join our Google Plus community of DashLinQ supporters and followers.
Drive happy!