USB2, AND2 and USB2P (serial batch number starts with the 831 through 843)
Here you can download the latest version of firmware for your GROM-USB2P (serial number starts at 831 and up to 843), GROM-USB2 or GROM-AND2 interface.
If you have GROM-USB3 or GROM-USB2P with the first three numbers of the serial number that are higher than 843, please go to the GROM-USB3 and GROM-USB2P firmware update page for the applicable firmware.
Check out the picture on the left for the visual reference. If your GROM kit metal casing has extra lip, please proceed with this page to download the latest firmware.
To apply the firmware do the following:
Rename file to gromusb2.hex
Put the file on a USB stick into the root of the drive (as shown below)
Create at least one folder and place one music file into that folder
Turn on the ignition and attach the stick to the device
The light on a stick should blink for several seconds and then stay solid
The firmware update is done. Ready to use!
Turn ignition off and then on for stereo to recognize the new firmware
Make sure you remove gromusb2.hex from the stick to avoid unwanted firmware change later!
If you experience any problems check "Troubleshooting" below
All GROM kits are shipped with the latest available firmware. Please DO NOT update the firmware unless you were instructed to do so by one of our tech specialists.
There is no need to install all intermediate versions of firmware to apply all fixes. Simply install the latest version and it will include all changes from previous versions.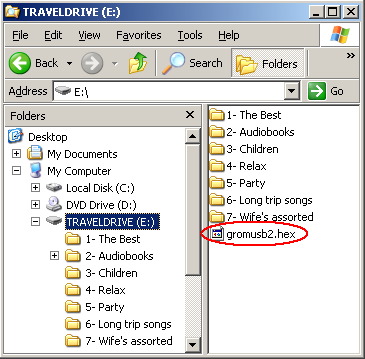 Car make:
Version:



Description:




Changelog: