Important functionality note:
GROM-AND2 Adapter for Mazda 02-08 can be used in CDC (CD Changer) and SAT emulation mode. CDC emulation supports steering wheel controls and Disk Number Track Number (no text) on the display. SAT emulation supports text such as Artist and Song name, but does not support steering wheel controls. For more information check
CDC and SAT GROM Kit Functionality illustration
Android Phone Car Integration:
GROM-AND2 Android Car Link adapter connects your Android phone to the stock stereo in your car. With GROM-AND2 Android Car Link you can listen to your digital music library and control the playback through your car stereo controls or from the Android phone directly. In addition you will charge your phone while in car.
USB Drive Input:
You can also connect USB 2.0 mass storage device such as external hard drive or flash thumb drive to the USB port of GROM-AND2 Android Car Link. Then you will be able to listen to your USB digital music and control the playback through the car stereo or stereing wheel controls. The USB drive will be your virtual CD changer.
AUX 3.5mm Input:
you will get AUX-IN connection for any additional audio source such as DVD, MP3 player, XM and more with 5FT AUX-In cable included.
Installation:
Connect GROM-AND2 car kit to your car stereo via CD changer (EXT) port (see manual for details)
Place GROM-AND2 module in the accessible location (glove box)
or route USB and AUX-In cables to the accessible location (glove box or arm rest)
Operation with Android phone:
Install
AALinQ application
Arrange your music by playlists or according to your preferences
Connect Micro USB cable to GROM and your phone
Control the music from the stereo/steering wheel or Android phone
Operation with USB stick:
Transfer your MP3/WMA/iTunes (AAC) files to USB stick/disk/drive
Connect USB male to female cable to GROM
Plug-in USB disk / stick / drive into GROM
Main characteristics:
Built-in high quality (18 bits,low noise) MP3 / WMA / MP4 Decoder
Supports any Android device (AOS 2.2+)
Supports USB Stick / flash drive / mass storage devices
FAT 16/32 system supported
CD quality sound of your MP3 files with car stereo level-matching technology
Full control over the music via steering wheel or car stereo controls
Full control over the music on your Android device
Maps discs to root folders
Shuffle, scan, repeat through your digital media files
3.5mm cable to connect any MP3/Audio player with recessed connector to fit most MP3 players, including iPhone or iPod
Playlist positions are preserved for several USB sticks
For more information on folders, formats, operation and limits- read
FAQ
Firmware upgradeable, universal
interface fits many car makes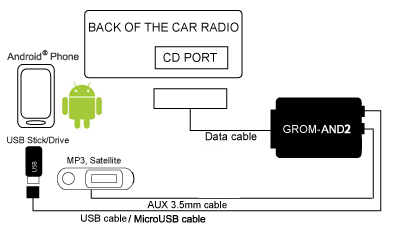 Important compatibility note:
If you have a factory Satellite radio (subscribed to), it must be disconnected in order to use the GROM adapters for 02-08 Mazda. It is possible to retain the Satellite and use GROM adapter at the same time. If you are interested in preserving Satellite please
contact us
for assistance.
For Mazda6 2004 please read an
article
to understand what is involved in making our device work.
Important compatibility note:
If you have a factory satellite radio (subscribed to), it must be disconnected in order to use the GROM adapters for 02-08 Mazda.
Operating Temperature: -40C - +85 C (-50F - 200 F)
Operating current: ~140mA
Standby current: ~1mA
SN Ratio: 95dB
DAC resolution: 18bit
Distortion: < 0.01%
Dimensions: W / H / D - 60* 73 * 20 mm
Weight: 60g
Enclosure: Black aluminum

Mazda 3 2003-2008 (*)
Mazda 5 2005-2008
Mazda 6 2003-2008 (03-05 may require change on the radio)
Mazda Miata MX5 2002-2008
Mazda MPV 2002-2008
Mazda Protege 2002-2003
Mazda RX-8 2004-2008 (radio firmware v9.55 or later /v10.01 and v9.81 not supported/)
Mazda Tribute 2002-2006
Mazda BT 50 2006-2008
Mazda CX-7 2007-2008 (no navigation)
Mazda CX-9 2007-2008 (no navigation)
Mazda B-series 2003-2008 (not navigation)
* Not compatible with MP3 stereo
- Car stereo adapter in metal enclosure
- OEM compatible harness to connect to the back of the car stereo
- USB Type A Male / Type Micro B Male 3FT cable
- AUX 3.5mm audio cable, 5FT
- Operation manual

- 30 days money back guarantee
- 1 yr replacement warranty
We ship internationally. For rates and delivery times please see this
chart
100% satisfaction guarantee - 30 days return for any reason
1 year manufacturer repair / replacement warranty
All returned items should be requested on
Support page
Without RMA we will not accept returns!