Brand NEW GROM AUX Auxiliary adapter kit, to add 3.5mm phone jack to factory car stereo
Auxiliary Car Interface
adds 3.5mm phone jack to the original factory stereo of many cars. The aux auxiliary 3.5mm audio connector can connect to many phones and MP3 players, including iPhone and Android phones. Once connected, GROM AUX AUX3 adapter car kit will transfer crystal clear sound from your mobile device to the factory car stereo.
Special sound enhancing technology will ensure great sound quality. 3.5mm phone jack will make stury connection to your mobile device.
Optional Bluetooth Dongle (sold separately):
will allow you to stream your MP3 music from your phone to the factory stereo via Bluetooth Audio playback (A2DP), control your MP3 music with the car stereo or steering wheel controls via Bluetooth wireless audio control (AVRCP) (where applicable).
Optional USB charging upgrade (sold separately):
Add USB charging to your system for just $4.99 upgrade to the GROM AUX+Charging harness (C-35USB). Note that Android phones will charge slow, see the
forum post
The cable has 5V USB charging connector that will charge most of the Smarphones, including iPhone and Samsung.
NOTE:
USB port on the auxiliary cable C-35USB is for charging only, it will not let you to play the music directly from USB stick or Android phone. If you want to play the music from USB stick or integrate Android phone - please consider
GROM USB MP3 Kit
Will not conflict with your stereo factory Bluetooth system, you can use both car stereo and GROM Bluetooth systems
Car Smartphone Mounts:
Looking for the ways to safely and comfortably use your smartphone in the car? Check out the smartphone in-car mounts available at out store
here >>>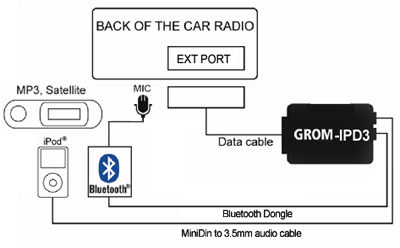 Operating Temperature: -40C - +85 C (-50F - 200 F)
Operating current: ~50mA
Standby current: ~1mA
SN Ratio: 90dB
DAC resolution: NA
Distortion: < 0.01%
Dimensions: W / H / D - 60* 73 * 20 mm
Weight: 30g
Enclosure: ABS Plastic

BMW 3 series 1999-2005 (All)
BMW 3 series Coupe, Convertible 2006-2006 (All)
BMW 5 series 1998-2003 (All)
BMW 7 series 1999-2001 (All)
BMW M Coupe 1999-2002 (All)
BMW M Roadster 1999-2002 (All)
BMW M3 1997-2005 (All)
BMW M5 2000-2003 (All)
BMW X3 2004-2010 (All, *05+ see below)
BMW X5 2000-2006 (All)
BMW Z3 1997-2002 (All)
BMW Z4 2003-2008 (All, *06+ see below)
BMW Z8 2000-2003 (All)
Mini Cooper R50/53 2002-2005
Mini Cooper Convertible R52 2004-2008
Rover Range Rover HSE 2002-2004 (Navigation 16:9; *2004 may need wire modification)
Important Compatibility Limitation for select BMW vehicles:
BMW X3 (E83) production date 09/05 and up with DSP
without
navigation, CD changer and iPod connection
BMW Z4 (E85) production date 02/06 and up with DSP
without
navigation, CD changer and iPod connection
BMW Z4 (E86) coupe production date 05/06 and up with DSP
without
navigation, CD changer and iPod connection
These vehicles above do not require GROM DSP adapter (use analog DSP) and can be installed at stereo or trunk, but audio part will not work until the stereo is programmed (retrofited) to accept CD Changer (bmw calls it "vehicle order"). Please contact your local BMW dealer and ask them to retrofit the stereo to accept CD changer.
If your car falls into the above range and has Navigation, CD changer or iPod connection, GROM will work without any reprogramming.
**
For BMW with SiriusXM satellite radio, the XM radio need to be disconnected in order for GROM to work.
- GROM-AUX (IPD3) Car Adapter
- Vehicle specific harness
- 3.5mm audio to MiniDin cable, 5FT (C-35MDN)
- User manual

Optional accessories and upgrades - sold separately:
- GROM Bluetooth Dongle (GROM-BTD)
- Upgrade to 3.5mm cable + USB charging (C-35USB) for $4.99
- Flush Mount AUX-In mounting cable

- 30 days money back guarantee
- 90 days replacement warranty
We ship internationally. For rates and delivery times please see this
chart
All returned items should be requested on
Support page
Without RMA we will not accept returns !