Brand NEW GROM AUX Auxiliary adapter kit, to add 3.5mm phone jack to factory car stereo
Auxiliary Car Interface
adds 3.5mm phone jack to the original factory stereo of many cars. The aux auxiliary 3.5mm audio connector can connect to many phones and MP3 players, including iPhone and Android phones. Once connected, GROM AUX AUX3 adapter car kit will transfer crystal clear sound from your mobile device to the factory car stereo.
Special sound enhancing technology will ensure great sound quality. 3.5mm phone jack will make stury connection to your mobile device.
Optional Bluetooth Dongle (sold separately):
will allow you to stream your MP3 music from your phone to the factory stereo via Bluetooth Audio playback (A2DP), control your MP3 music with the car stereo or steering wheel controls via Bluetooth wireless audio control (AVRCP) (where applicable).
Optional USB charging upgrade (sold separately):
Add USB charging to your system for just $4.99 upgrade to the GROM AUX+Charging harness (C-35USB). Note that Android phones will charge slow, see the
forum post
The cable has 5V USB charging connector that will charge most of the Smarphones, including iPhone and Samsung.
NOTE:
USB port on the auxiliary cable C-35USB is for charging only, it will not let you to play the music directly from USB stick or Android phone. If you want to play the music from USB stick or integrate Android phone - please consider
GROM USB MP3 Kit
Will not conflict with your stereo factory Bluetooth system, you can use both car stereo and GROM Bluetooth systems
Car Smartphone Mounts:
Looking for the ways to safely and comfortably use your smartphone in the car? Check out the smartphone in-car mounts available at out store
here >>>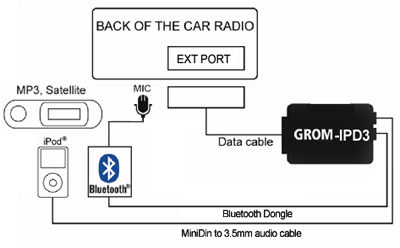 Stereo should be SATELLITE capable and have word SAT, CAT or Category imprinted on its facia. The adapter will emulate Satellite; the Satellite receiver in the trunk will have to be disconnected. Please make sure to disconnect the receiver in the trunk otherwise the GROM adapter will not be recognised.
If your stereo is not Satellite capable - please use
Nissan AUX for CD Changer Emulation.
Please note that the following stereo is NOT compatible: CY12B (it is enprinted on stereo fascia)
Infiniti EX35 2005-2010 (CAT/SAT should be on stere, no NAV)
Infiniti FX35/45/50 2003-2008 (CAT/SAT should be on stereo)
Infiniti FX35/45/50 2009-2010 (CAT/SAT should be on stereo, no NAV)
Infiniti G35/35S Coupe 2003-2007 (CAT/SAT should be on stereo)
Infiniti G35/35S Sedan 2003-2006 (CAT/SAT should be on stereo)
Infiniti G35/35S Sedan 2007-2007 (CAT/SAT should be on stereo, no NAV)
Infiniti G37/37S 2008-2013 (CAT/SAT should be on stereo/ no NAV)
Infiniti M35/M45 2006-2007 (CAT/SAT should be on stereo)
Infiniti M35/M45 2008-2010 (CAT/SAT should be on stereo/no NAV)
Infiniti Q40 2014-2014 (CAT/SAT should be on stereo/no NAV)
Infiniti QX56 2004-2006 (CAT/SAT should be on stereo)
Infiniti QX56 2007-2009 (CAT/SAT should be on stereo/no NAV)
Nissan 350Z 2004-2009 (CAT/SATimprinted on stereo, for 2009 - No Navigation)
Nissan 370Z 2009-2014 (CAT/SATimprinted on stereo, No Navigation)
Nissan Altima 2005-2006 (CAT/SAT imprinted on stereo, BOSE only)
Nissan Altima 2007-2012 (CAT/SAT imprinted on stereo, sedan only)
Nissan Altima 2008-2013 (CAT/SAT imprinted on stereo, coupe only)
Nissan Frontier Pickup 2004-2010 (BOSE, with CAT/SAT on the stereo)
Nissan Murano 2004-2010 (CAT/SAT imprinted on stereo, for 2010 - No Navigation)
Nissan Maxima 2005-2010 (CAT/SATimprinted on stereo)
Nissan Pathfinder LE 2004-2009 (CAT/SAT imprinted on stereo)
Nissan Rogue 2007-2010 (CAT/SAT imprinted on stereo)
Nissan Quest 2004-2010 (CAT/SAT imprinted on stereo)
Nissan Sentra 2008-2009 (CAT/SAT imprinted on stereo)
Nissan Titan 2004-2010 (CAT/SAT imprinted on stereo)
Nissan Versa 2007-2009 (CAT/SAT imprinted on stereo)
Nissan Xterra 2007-2010 (CAT/SAT imprinted on stereo)