Direct sound connection will ensure the best sound quality.

AUX 3.5mm car audio input:
Just plug the device into the extension port of your stereo, connect it to your favourite MP3 player, iPod, iPhone, or Android device and hear the CD quality music right away!

*Upgrade to USB 5V charging:
by selecting this option you will get the 5FT AUX cable with 5V USB charging
instead
of the regular 3.5mm audio cable. Using such cable you will be able to charge most mobile devices with the 5V USB charging. For picture and more information please
click here >>>
NOTE:
USB port on this kit is for charging only, it will not let you to play the music directly from USB stick or Android phone. If you want to play the music from USB stick or integrate Android phone - please order
GROM USB MP3 Kit
iPod/iPhone/iPad Integration:
Connect your iPod, iPhone or iPad with GROM compatible special iPod cable for play, charge and control. You will need special iPod cable (order above) for direct iPod connectivity (track/playlist control). If you have the iPod/iPhone/iPad with the lightning style connector, you will need to order 30-pin to lightning style converter adapter from Apple store.
Car Smartphone Mounts:
Looking for the ways to safely and comfortably use your smartphone in the car? Check out the smartphone in-car mounts available at out store
here >>>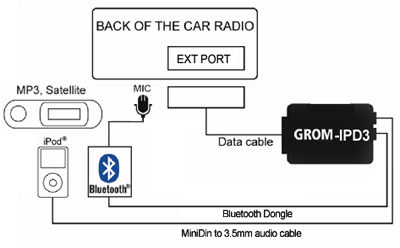 For Mazda6 2004 please read an
article
to understand what is involved in making our device work.
Mazda 3 2003-2008 (*)
Mazda 5 2005-2008
Mazda 6 2003-2008 (04 may require change on the radio)
Mazda Miata MX5 2002-2008
Mazda MPV 2002-2008
Mazda Protege 2002-2003
Mazda RX-8 2004-2008 (radio firmware v9.55 or later /v10.1 and v9.81 not supported/)
Mazda Tribute 2002-2006
Mazda BT 50 2006-2008
Mazda CX-7 2007-2008 (no navigation)
Mazda CX-9 2007-2008 (no navigation)
Mazda B-series 2003-2008 (not navigation)
* Not compatible with MP3 stereo
- Car stereo adapter in plastic enclosure
- Vehicle specific harness
- MiniDin - 3.5 male audio cable 5FT
- User manual

Optional accessories and upgrades - sold separately:
- *Upgrade to 3.5mm with 5V USB charging cable - check the mark near "*Upgrade to 3.5mm plus 5V USB charging cable"
- iPod cable - check near "Add iPod cable for charge and control"
- Flush Mount AUX-In mounting cable

- 30 days money back guarantee
- 1 yr replacement warranty
We ship internationally. For rates and delivery times please see this
chart
All returned items should be requested on
Support page
Without RMA we will not accept returns !