How to Make Phone Calls With Android Auto With VLine VL2 and GROM-BT3 Bluetooth Car Kit - Lexus 2002-2006
With the VLine VL2 Android Autoand GROM BT-3 Bluetooth Car Kits you can connect your phone and access Wireless Android Auto to make hands-free phone calls.

NOTE: You will need a GROM BT3 Bluetooth Car Kit if your stereo does not have factory Bluetooth connectivity.
With VLine VL2 Android Auto integration, the phone calls go through the factory stereo Bluetooth connection. However, on some Lexus 2002-2006 OEM stereos, there is no factory Bluetooth for phone calls. If your stereo is like that and requires LEX4, LEXGX, LEXGS, LEX3, or LEX3L model of VLine system, you can still add Bluetooth phone calls functionality to it using GROM-BT3 Bluetooth car kit.
Please note that if you are using VLine VL2 CarPlay, you do not need any extra Bluetooth add-ons, as the phone calls will go through the CarPlay.
This video will show you how to setup your VLine and Phone with our GROM-BT3 Bluetooth Car Kit if your vehicle does not support it:
What is VLine VL2 CarPlay Android Auto System?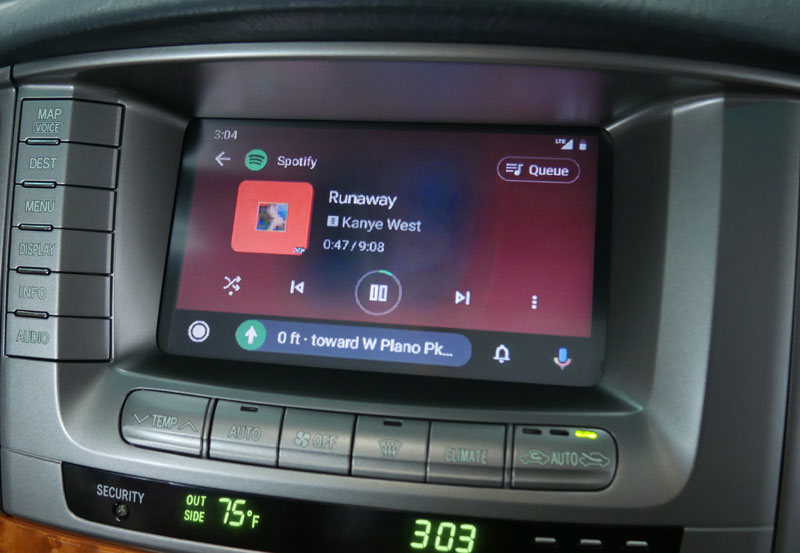 VLine is a connected car infotainment system for many factory stereos. VLine fully integrates into your OEM car stereo, providing access to the latest automotive technology: Maps (Google, Waze, and others), Music Apps (Spotify, Web Radio, Google Music, etc.), Wireless CarPlay and Android Auto integration, right through the factory stereo system.

Read more about our VLine VL2 Wireless CarPlay Android Auto System

COPYRIGHT NOTICE
All material and content is the property of gromaudio.com. The material and content on this site is protected by international copyright laws. You may not modify, duplicate, reproduce, publish, upload, transmit, or distribute in any way (including by way of email, facsimile or other electronic means) material and content from this site, unless specified, without written permission from gromaudio.com. You may download certain content or materials on specified pages from this site for personal, non-commercial use only. All other logos, banners, and certain content not affiliated or owned by gromaudio.com is the sole property of the rightful owner.