GROM Firmware Here you can download the latest version of firmware for your GROM-BT3 interface.
GROM-BT3 Bluetooth Car Kit, HD Radio and AUX capable
Here you can download the latest version of firmware for your GROM-BT3 adapter.
All GROM kits are shipped with the latest available firmware. Please DO NOT update the firmware unless you were instructed to do so by one of our tech specialists.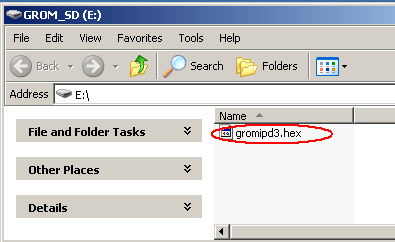 To apply the firmware do the following :
Rename file to gromipd3.hex
Put the file on a MicroSD stick into the root of the drive (as shown at the left)
Disconnect from the 20 pin main harness
Insert the flash card into the slot with pins facing down
Attach the black GROM box to the 20 pin harness
LED will blink and stay solid. Update complete!
Note: You may leave the MicroSD card in the slot, it will not harm the device
If you experience any problems check Troubleshooting below
There is no need to install all intermediate versions of firmware to apply all fixes. Simply install the latest version and it will include all changes from previous versions
Check out the firmware update video :
Troubleshooting
If you experience problems with updating the firmware on GROM unit, check these important steps:
Make sure it is named gromipd3.hex and not gromipd3.hex.hex
Try with 4GB and smaller microSD card
Make sure the microSD card you are using is formatted FAT file system structure i.e. FAT32, FAT16 or FAT. /// NTFS and exFAT are not supported by the GROM.