GROM Wirelinq Firmware Here you can download the latest version of firmware for your Wirelinq Smart Android USB Cable.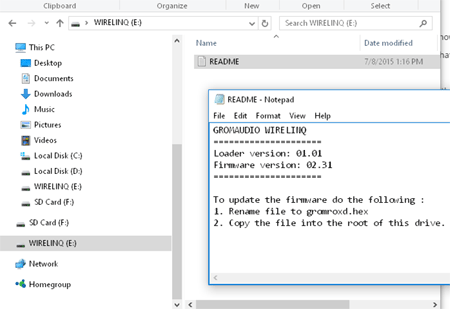 To apply the firmware do the following :
Download the firmware file from the link below. It will be named as gromroxd_XX.hex, where "XX" represents the firmware version.
Connect the Wirelinq to USB port of your computer. NOTE: Do not connect the Wirelinq to the phone at this time.
Wait until your computer recognizes Wirelinq as the drive.
Rename the downloaded firmware file to gromroxd.hex
Drop the renamed file into that "Wirelinq" drive.
Disconnect the Wirelinq cable.
Done!
To check if the firmware went through, connect Wirelinq cable back to the USB port on your PC. Once recognized as drive, open the read.me file and check the firmware version.